Laser Components
InAs Photodiodes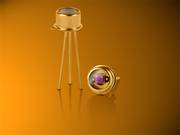 InAs 900 – 3500 nm

The IA35 series photodiodes based on heterostructures were specially designed for operation at room temperature.
Description
The IA35 series is a spectral addition to the IG26 series of extended InGaAs photodiodes. IA35 detectors are photovoltaic, and the active area has a diameter of 500 µm.
IA35S500S4i is a high-quality yet affordable component. Compared to InAs products by traditional manufacturers of IR detectors, it offers double shunt resistance at a simultaneously quadrupled area.
Main Applications for IR Photodiodes:
Non-contact temperature measurement
Laser monitoring
Spectrophotometer
Key Features Include the Following:
Peak sensitivity: ≥1.05 A/W
Typical spectral range at 80% of peak sensitivity: approx. 900 nm to approx. 3500 nm
Shunt resistance: typically 700 ohms