Laser Components
IR Emitters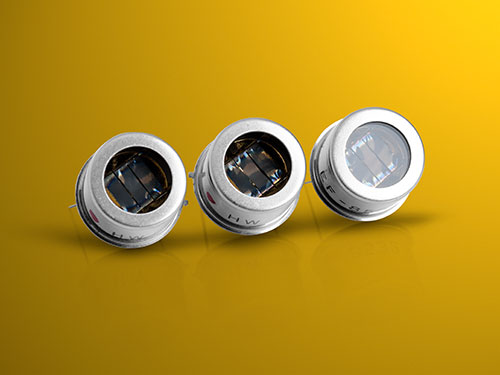 IR Emitters
Pulsed and cw IR emitters
Description
In the following, thermal emitters are referred to as IR emitters (as opposed to diode lasers). All IR emitters are delivered in a TO housing.
IR emitters often compete among users with special, inexpensive micro incandescent lamps. These lamps often feature a suitable level of radiation at wavelengths of up to approximately 4.5 µm; however at larger wavelengths, the use of IR emitters is mandatory.
Although, it may also be sensible to use special IR emitters below 4.5 µm: For one, IR emitters are mechanically robust; for another, some models are particularly suitable for electric pulsing.
Micro incandescent lamps will see a tendency toward a decline in production because use of alternative technologies in control panels and displays will dominate this area more and more.


In the cw IR emitters from HelioWorks, Inc., the emitting element consists of Kanthal, whereas in pulsed emitters NiCr or tungsten is used. In many models a gold-coated parabolic mirror is integrated or can be ordered as an option to increase the output power in the IR range. The reflectivity of gold is significantly higher than polished aluminum, which is often used as reflector material.
Depending on the input power, temperatures between 900°C and 1000°C can be reached with the EK-series cw IR emitters. Standard TO housings (TO-8, TO-5, TO-3) are used. The emitters are available either without windows or, optionally, with sapphire, CaFe, or ZnSe windows; the parabolic reflector is standard.
The EF-series pulsed IR emitters reach a peak temperature of 700°C. They have three emitting elements that can be operated either together (2-PIN, TO-8 housing) or individually (4-PIN, TO-8 housing). Regarding the windows, the same options are available as with the cw emitters.
The EP-series emitters have a tungsten element. They reach temperatures above 1650°C and are thus suited for applications in the NIR range. These emitters are exclusively available with sapphire windows and come in a TO-8 housing. The gold-coated parabolic mirror is integrated on a standard basis.
Datasheets
EK-series
EF-series
EP-series