LASER COMPONENTS社
Laser White Light Modules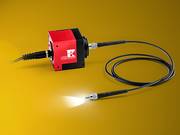 ALBALUX Fiber-Coupled Module
ALBALUX FM is a novel white light fiber-coupled module. The structured light source produces highly-directional and brilliant white light, superior of that of LED.
Description
ALBALUX FM offers high luminance output that enables long throw distances, narrow beam angles and small optic sizes for specialty lighting applications.
The white light source is based on a small small 450 nm diode laser pumping a phosphor that produces brilliant, broad-spectrum, incoherent white light. This award-winning technology is the world's first laser-generated white light source of its kind.
Features
World's highest luminance with novel fiber optic delivery
Up to 100x the intensity of the white light LED
Precise beam control and illumination
Typical >150 lumens fiber output
CCT 6000 K, CRI 70
Enables long throw distance
Sharp beam cutoff and high contrast light field gradients
Medical endoscopy
Industrial endoscopy
Spectroscopic diagnostics
Biomedical instrumentation
Machine vision
Specialty lighting
Defense
Law enforcement