Light Guide Optics 社製 
Optical Fiber Cables and Optical Fiber Bundles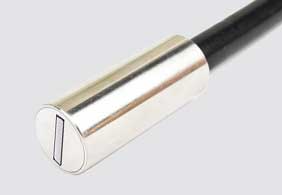 A new quality standard and perfectly harmonized products.
Also known as a "jumper" this single fiber cable is a fully developed technology. We put this technology on a new level with our quality standard by offering lengths far beyond 20 meters and all types of customized connectors or standard plugs manufactured in our own facility.
Our typical product range consists of customer special optical fiber bundles. Our specialty is manufacturing special designs and custom-made products. We guide you through the project from the first idea to the serial production. In this process you benefit from our know-how and experience of more than 40 years of optical fiber production and assembly.
Suitable and optimized for your application:
Spectroscopy: industry and medicine
Instruments: welding, soldering, marking
Sensing: data transmission, aviation
Air and space: extraplanetary missions, satellites, special vacuum applications
Energy technology: Solar, nuclear and fusion reactors
Defense technology: laser assisted peripheral equipment
Medicine: Illumination and detection
lwl querschnitt 3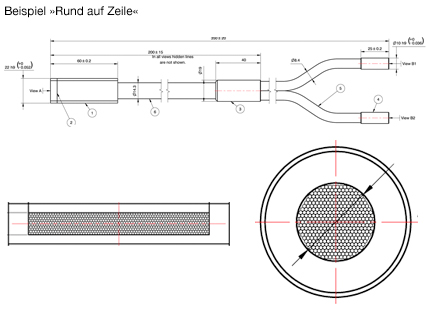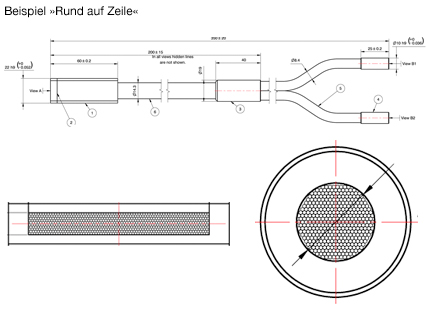 lwl querschnitt 1 01

lwl querschnitt 2 01
Specifications
LGO Hexagon Fused Bundles© feature a particulatly optimized packing density of the fiber cores. Especially in flame monitoring and other high temperature applications our product has got decisive advantages.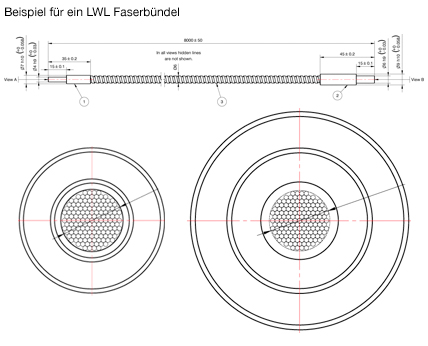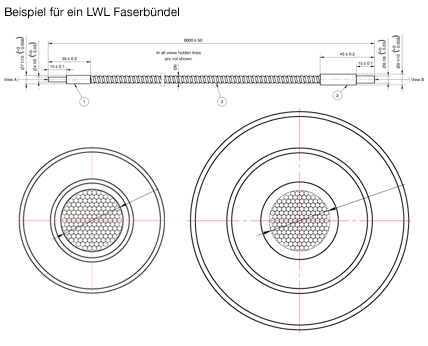 Specifications
Our cables and bundles are available in various geometries.
Standard fiber bundles:
Various Variations:
Round to round
Round to rectangular
Rectangular to rectangular, et cetera
Sorted Fiber Bundles:
By individual fiber sorting rations our products achieve an optimum light distribution and particularly good illumination conditions.
In case of special assemblies, like multi-leg fiber bundles, our specialized production processes yield extraordinary homogeneous lighting effects.

Special Geometry:
»Array alignment« – round/rectangle to array for example in connection to spectrometry.