With level of protection IP54
Interrogation monitor (FBG) 
FBG interrogation monitor with level of protection IP54
The FBG interrogation unit FIU – 44 – 1.55 with level of protection IP54 (dustproof and waterproof) provides registration of optical signals from fiber-optic sensors for various physical quantities based on Fiber Bragg Gratings (FBGs).
The obvious advantage FIU is constantly processing a reference signal, which leads to constant monitoring of the accuracy of the measurements.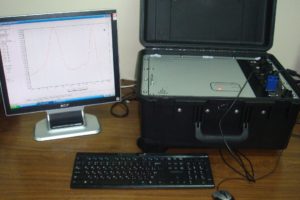 Measurable physical quantities:
By using various sensor head types, an FIU-based flexible multipurpose telemetry system can be constructed. Multipoint, quasi-distributed, or point simultaneous measurements can be implemented with such a system, the measurable physical quantities being as follows:
Technical characteristics
PARAMETER / ARTICLE

Spectral width of an optical channel, nm
1510 ÷ 1595
1525 ÷ 1595
Polarization state of the light source
partially polarized
depolarized
The number of optical channels**
4 / 8/ 16 
The number of sensors per channel
16 (8)
Range of intensities of the registered optical signals, dBm
-80 ÷ -20
Dynamic range, dB
30
Total optical power light source, dBm***
0
Sampling frequency, kHz 
4 (8)
Software
The FBG interrogator is equipped with a built-in fully functional software
Output interfaces 
USB 2/0, SVGA, RS232****, RS485****
Power consumption, W 
< 200 
Protection class IEC 60529
IP54
Working temperature range, ºС
+5 ÷ +45
Humidity, % (no condensation) 
< 80
Power supply, V/Hz 
220/50
* – the S-series of the FBG interrogation units have the partial polarization of the output radiation. As result it has greater measurement error when using fiber optic sensors.
** – sensor which consists of a single Bragg grating (FBG).
*** – on the request, up to 10dBm.
**** – on the request
Advantages of the fiber-optic sensors:
high sensitivity and speed;
high immunity to noises and electromagnetic interferences, such as microwave and magnetic fields, spark discharge, and electromagnetic pulses of any nature and any intensity;
full electrical safety, which is due to the absence of electric circuits between the sensor and the registration module;
full explosion and fire safety, high chemical resistance of the sensing elements;
Areas of application:
energy production, including nuclear and thermonuclear installations;
aviation and cosmonautics;
land, water and underwater transport;
metallurgy and chemical industry;
oil and gas production;
pipeline transport;
construction;
medicine;
security systems;
scientific research.