Laser Components
LiTaO

3

Multi Channel Detectors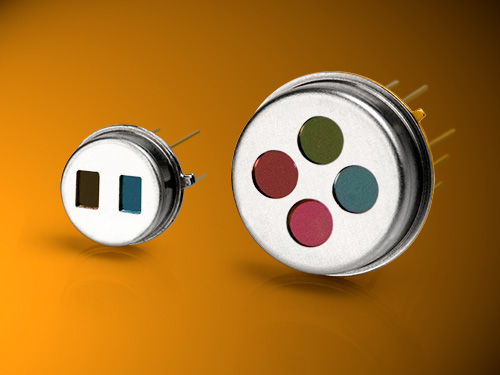 Multi-channel LiTaO

3

Pyroelectric Detectors
Multi-channel pyrodetectors: dual-channel, triple-channel and quad-channel versions, as well as current mode and voltage mode models, are available.
Multi-Color Detectors
Multi-channel pyroelectric detectors (multi-color detectors) are mostly used for gas analysis. Aside from a reference filter, each measurement channel is tuned to a gas absorption line by integrating a bandpass filter. The gas concentration is calculated by applying the Beer-Lambert law. A reference channel improves the long-term stability of the measurement.
Laser Components offers a wide variety of standard bandpass filters for gas analysis (e.g., CO2, CO, NO2, SO2, and hydrocarbons) and reference purposes. In our datasheet on filters you will find the corresponding filters. Additional filters are available upon request.
Depending on the number of channels, we offer the following detectors in current mode and voltage mode:
Current Mode Pyrodetectors – CM Mode
The same fundamental principles apply to both multi-channel and one-channel detectors in current mode. The detectors in current mode are particularly easy to integrate into systems; in fact, it is almost identical to Plug&Play integration.
The most compact detector is the three-channel version in a TO-39 housing!
The following product lines are available:
Two-channel detectors with filters
L12 and L22 series
Three-channel detectors with filters
L13 and L23 series
Four-channel detectors with filters
L14 and L24 series
Voltage Mode Pyrodetectors – VM Mode
We highly recommend pyrodetectors in voltage mode for experienced users.
Depending on the number of channels, we offer various versions as follows:
Dual-channel pyrodetectors
L32 and L42 series
Triple-channel pyrodetectors
L33 and L43 series
Quad-channel pyrodetectors
L34 and L44 series
Gas Analysis
Pyroelectric detectorscan be used for:
Medical gas analysis such as breath gas analysis