Laser Components
LiTaO

3

Single Channel Detector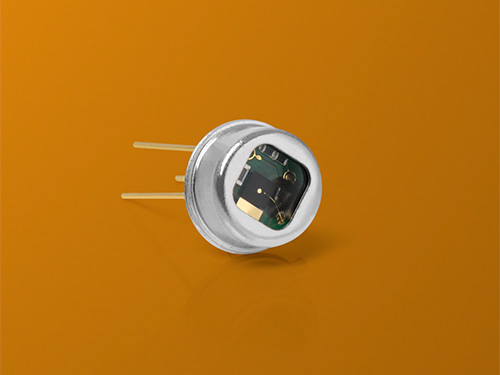 One-Channel LiTaO

3

Pyroelectric Detector
Pyroelectric LiTaO3 single-channel detectors are available for current mode (CM) and voltage mode (VM).
Single-channel IR Detector
This product line uses LiTaO3 as the chip material. We offer a broad range of active sizes and packages. Our smallest package is a TO-46 and our largest standard chip size is 3.0 x 3.0 mm2. We also offer versions for all common methods of driving pyroelectric detectors. These detectors can be tailored to applications by integrating bandpass filters or broadband windows. For details please see the separate "Filter and Window Selection Sheet".
Two different types of pyroelectric detectors are available:
Current mode CM detectors
L11 & L21 series
Voltage mode VM detectors
L31 & L41 series
Current Mode Detector – CM
Currently, the op-amp-based current mode (CM) is only used by a minority of users; however, this minority is rapidly growing. We strongly recommend using this method of driving, especially for new developments. In our experience, customers profit from the following advantages: There is a relatively large signal on top of a small offset. In addition, this offset is more consistent across a wider temperature range.
This series has the following designation: L11 for detectors without temperature fluctuation compensation (TFC) and L21 for those with TFC. In general, L21 series components have a higher performance ratio than those of the L11 series.
Voltage Mode Detector – VM
The JFET-based voltage mode (VM) is the traditional and still most popular method of operating pyroelectric detectors. From today's standpoint, this method is only recommended for experienced users and/or for users attempting to temperature stabilize a pyroelectric detector. The designation L31 is for models without TFC and L41 for versions with TFC. TFC versions demonstrate a lower performance in voltage mode than versions with TFC.